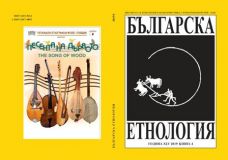 Брой 4 / 2019
Съставител: Вихра Барова
Тема на броя:
СУБКУЛТУРНИ ОБЩНОСТИ
Съдържание:
Вихра Барова – От съставителя.
Ирери Армента и Вихра Барова – Социална динамика на конструирането на Другия. Възприятията на младите хора за младежките субкултури и културното многообразие.
Златина Богданова – Рокерската субкултура в малкия град.
Ангелина Илиева – Ролевите игри на живото действие като субкултура.
Елена Петкова-Антонова – Клуб LAZARUS: идентичност и динамика в групата.
Боряна Ангелова-Игова – Субкултурата на бегачите на дълги разстояния.
Кремена Йорданова – Българските футболни фенове в чужбина. Случаят Vienna boys.
МУЗЕИ, ИЗЛОЖБИ, ГАЛЕРИИ
Лора Христозова – Каква е "Песента на дървото"? Изложба на Регионалния етнографски музей – Пловдив.
РЕЦЕНЗИИ И ОТЗИВИ
Мила Маева – Лайош Дьобрьоши. Мисията на един унгарец на българска земя. София: Унгарски културен институт/ИК "Арка", 2018.
Албена Георгиева – Ева Поч (Ред.). Тяло, душа, духове и свръхестествена комуникация. (Éva Póch (Ed.). Body, Soul, Spirits and Supernatural Communication) Newcastle upon Tyne: Cambridge Scholars Publishing, 2019.
ETNOLOGIA BULGARICA. YEARBOOK OF BULGARIAN ETHNOLOGY. 2017, Volume 5.