ETNOLOGIA BULGARICA. YEARBOOK OF BULGARIAN ETHNOLOGY. 2019, Volume 6.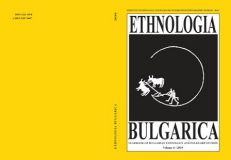 Editor: Albena Georgieva
Language Editors: Albena Georgieva, Shannon Martino
Table of content:
Mila Maeva – On the Way North and Finding a Home.
Plamena Stoyanova – Gypsies and the Emigrations of the 'Bulgarian Turks' (1948–1989).
Svetlana Koch – The Identification Strategies of the Bulgarians in Ukraine.
Maya Grekova, Iva Kyurkchieva, Maya Kosseva – State – Religion Relations: the Bulgarian Case.
Zornitsa Draganova – 'Gezi Spirit': Narrative Fragments and Modes of Articulation. Ethnography of Post-Protest (Istanbul 2013–2015).
Lina Gergova, Yana Gergova – The Tobacco City: The Discourse on Industrial Heritage.
Petya Bankova – The Value of the Gift or the Price of the Present.
Stamen Kanev – The Public Baths as a Factor in Local Identity Construction, 20th–Early 21st Century (The Case of Gorna Banya Quarter in Sofia).
REVIEWS AND COMMENTS
Mila Maeva – Veneta Yankova. Bulgarians in Hungary: Cultural Memory and Heritage. Budapest: Bulgarian Republican Self-Government, 2014.
Dobrinka Parusheva – Gueorguieva, Petia, Anna Krasteva (Dir.). La rue etl'e-rue. Nouvelles contestations citoyennes. Paris: L'Harmattan, 2015.
Evgenia Troeva – Ivaylo Markov. Migrations and Socio-Cultural Dynamics. The Albanians in the Republic of Macedonia. Sofia: Gutenberg Publishing House, 2015.
Daniela Koleva – Nikolay Nenov (Ed.), Beta Haralanova and Tatyana Shtereva. Anguish and Salvation. The Memory of the Jewish Communities in Ruse, Shumen and Varna. Ruse: European Spaces 21 Association, 2015.
Stanoy Stanoev – Petko Hristov, Anelia Kassabova, Evgenia Troeva, Dagnoslav Demski (Eds.). Contextualizing Changes: Migrations, Shifting Borders and New Identities in Eastern Europe. Sofia: Paradigma, 2015.
Evgenia Troeva – Elya Tzaneva. Ethnosymbolism and the Dynamics of Identity. Cambridge Scholar Publishing, 2015.
Ivanka Petrova – Elena Petkova. The Everyday Life of the Bulgarian Muslim Women in the Central Rhodope Mountains. Sofia: Gutenberg Publishing House, 2015.
Daniela Koleva – Yana Yancheva. The Collectivization in the Bulgarian Village (1948–1970). Collective Memory and Everyday Culture. Sofia: Gutenberg Publishing House, 2015.
Valentina Vaseva – Ana Luleva, Ivanka Petrova & Slavia Barlieva (Eds). Research on Cultural Memory, Cultural Heritage and Identities. Sofia: Gutenberg Publishing House, 2015.
Albena Georgieva – Petar Shukerov, Ivan Patev, Dimitar Mihaylov. The Earth Looks at Heaven. People and Orthodox Temples in the Central Rhodopes. Sofia: St. Kliment Ohridski University Press, 2015.
Elya Tzaneva – Ethnographic Problems of Folk Culture. V. 11. Editorial Board: Rachko Popov, Anatol Anchev (Ed.-in-Chief), Evgenia Troeva. Sofia: 'Prof. Marin Drinov' Publishing House, 2016.
Anelia Kassabova – Mila Maeva. Bulgarian Emigrants in England – Past and Present. Sofia: Paradigma Publishing House, 2017.
Valentina Sharlanova – Ivan Krastev. After Europe. On the Weakness and the Strength of the European Union. Sofia: Publishing House Obsidian, 2017.
Georgeta Nazarska – Valeri Katzunov, Dzheni Ivanova, Tzvetana Velichkova (Eds.). Women in the History of Academic Science in Bulgaria: Habilitated Women in BAS Sofia: Roprint, 2018.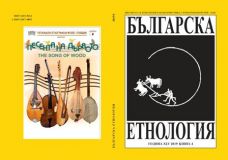 Брой 4 / 2019
Съставител: Вихра Барова
Тема на броя:
СУБКУЛТУРНИ ОБЩНОСТИ
Съдържание:
Вихра Барова – От съставителя.
Ирери Армента и Вихра Барова – Социална динамика на конструирането на Другия. Възприятията на младите хора за младежките субкултури и културното многообразие.
Златина Богданова – Рокерската субкултура в малкия град.
Ангелина Илиева – Ролевите игри на живото действие като субкултура.
Елена Петкова-Антонова – Клуб LAZARUS: идентичност и динамика в групата.
Боряна Ангелова-Игова – Субкултурата на бегачите на дълги разстояния.
Кремена Йорданова – Българските футболни фенове в чужбина. Случаят Vienna boys.
МУЗЕИ, ИЗЛОЖБИ, ГАЛЕРИИ
Лора Христозова – Каква е "Песента на дървото"? Изложба на Регионалния етнографски музей – Пловдив.
РЕЦЕНЗИИ И ОТЗИВИ
Мила Маева – Лайош Дьобрьоши. Мисията на един унгарец на българска земя. София: Унгарски културен институт/ИК "Арка", 2018.
Албена Георгиева – Ева Поч (Ред.). Тяло, душа, духове и свръхестествена комуникация. (Éva Póch (Ed.). Body, Soul, Spirits and Supernatural Communication) Newcastle upon Tyne: Cambridge Scholars Publishing, 2019.