Issue 3 / 2019. Clothes and Times. Issue editor: Miglena Ivanova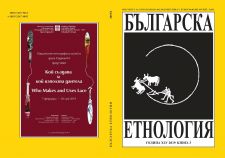 Miglena Ivanova – From the Issue Editor.
Margaret Dimitrova – Archival Document Containing Descriptions of Traditional Costumes in Tran Region in 1888
Iva Stanoeva – Types of Folk Costumes from the Region of Sofia Found in an Archival Document from 1889. 1. Samokov and Sofia Districts. 
Delyan Rusev – Ethnicity and Demographics in North-eastern Bulgaria through the Lens
of the Provincial Administration at the End of the Nineteenth Century. 
Miglena Ivanova – Between Specifics, Stereotype and "Adoption" of the Clothes of the Other. 
Yana Yancheva – Growing Fibrous Hemp and Production of Hemp Fibres in the 1950s.
By the Example of the Village of Mezdreya, Montana Region. 
PROJECTS
Iva Kyurkchieva – From Idea to Implementation – An Exhibition about People and Laces. 
MUSEUMS, EXHIBITIONS, GALLERIES
Elka Mincheva – The Sacral Magic of Lace Knitting. "Who Makes and Uses Lace" Exhibition, National Ethnographic Museum, February 7 – 20 May 2019.
REVIEWS AND COMMENTS
Valentina Sharlanova – Franco Cardini. "Islam is a Threat! False!" Sofia, 2018. 
Albena Georgieva – Éva Póch (Ed.). The Magical and Sacred Medical World. Newcastle upon Tyne, 2019. 
ACADEMIC LIFE
Elka Mincheva – International Conference "Pastoralism: Traditions and Modernity. Anthropological, Ecological and Social Aspects" – IEFSEM, February 25 – 26, 2019. 
IN MEMORIAM 
Mirella Decheva (1958 – 2019).
ETNOLOGIA BULGARICA. YEARBOOK OF BULGARIAN ETHNOLOGY. 2017, Volume 5.