Issue 1 / 2020. ETHNOLOGY OF OLD AGE. Issue editor: Ilia Iliev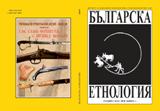 TABLE OF CONTENTS
Ilia Iliev – From the Editor.
Joanna Bencheva – Old Age in the Byzantine-Balkan World.
Denitsa Nencheva – "I Couldn't Feel at Ease" – Identity Construction and Self-Inheritance in Old Age. 
Detelina Tocheva – Islam and Communism as Local Phenomena: the Roles of the Elderly People in a Rhodope Village.
Ivelina Eftimova – Retirement Clubs: Formal Form of Informal Relations Beneficial in Old Age. 
RESEARCHES
Iva Stanoeva – Types of Folk Costumes in Sofia Region in an Archival Document of 1889. Part 2. Zlatitsa, Novo selo and Iskrets Districts. 
MATERIALS
Teodor Todorov – Constructional Characteristics of Buildings Constructed in the Period about 1650 – 1900. Fieldwork in the District of Gabrovo.
MUSEUMS, EXHIBITIONS, GALLERIES
Grozdelina Georgieva – Weapon – the Male Adornment. 
REVIEWS AND COMMENTS
Ilia Iliev – Daniela Koleva (Ed.) Age during Socialism. Generations in the Family and Society. Sofia: CAS, 2019. 
Meglena Zlatkova – Magdalena Elchinova. The Invisible Community: the Orthodox Bulgarians in Istanbul. Sofia: NBU Publishing House, 2017. 
ACADEMIC LIFE
Zlatina Bogdanova – National Scientific Conference with International Participation "The City in the Balkans: Spaces, Faces, Memory".
ETNOLOGIA BULGARICA. YEARBOOK OF BULGARIAN ETHNOLOGY. 2019, Volume 6.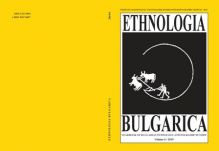 ETNOLOGIA BULGARICA. YEARBOOK OF BULGARIAN ETHNOLOGY. 2017, Volume 5.