Issue 2 / 2020. MOBILITY. MIGRATIONS. CULTURE. Issue Editors: Violeta Periklieva, Ivaylo Markov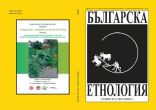 Table of contents:
Ivaylo Markov, Violeta Periklieva – From the Editors.
MIGRATION AND ADAPTATION IN NEW ENVIRONMENT
Galin Georgiev, Dinka Angelova – The Lifeworld of the Gagauzes from the Town of Yambol. Part I: Migration and Adaptation, Groups and Boundaries. 
Tanya Matanova, Vladimir Penchev – Ethnic Entrepreneurship among the Russian Community in Bulgaria. 
Desislava Pileva – We Have Far More Festivals! Intercultural Interaction and Festivities in Bi-Religious Families.
Alexandra Kirova – Acculturation and Identity of Juvenile Immigrants. A Case Study from France.
LABOUR MOBILITY AND SOCIOCULTURAL TRANSFORMATION IN THE PLACES OF ORIGIN
Petko Hristov, Niya Spasova – Continuing Mobility: the Case of the Housemaids from the Tuzluk Region. 
Ivanka Abadzhieva-Ivanova – External Labour Migrations of the Roma People – Escape from Poverty and Accumulation of New Social Experience.
Svetlana Antova – The Aging Parents of Labour Migrants (the Case of the Elderly People from Belogradchik). 
BORDERS AND COMMUNITIES
Violeta Periklieva – From "Kinship Gatherings" to "Shopping": Dynamics of the Relations between the Regions of Petrich, Republic of Bulgaria, and Strumica, Republic of North Macedonia. 
Julia Popcheva – The Meeting Point of Bulgarian Emigrants. 
REVIEWS AND COMMENTS
Ivaylo Markov – Banu Çitlak, Sebastian Kurtenbach, Megan Lueneburg, Meglena Zlatkova. (Eds.) The New Diversity of Family Life in Europe. Mobile Ethnic Groups and Flexible Boundaries. Wiesbaden: Springer VS, 2017.
Lyubomir Georgiev – Valentina Vaseva (Ed.). The Banat Bulgarians – Before and Now. Sofia: SABA, IEFSEM – BAS, ABB "Falmis", 2019. 
ACADEMIC LIFE
Desislava Pileva – 58th International Academic Week "Borders in Southeast Europe", September 30 – October 4, 2019, Tutzing, Germany.
ETNOLOGIA BULGARICA. YEARBOOK OF BULGARIAN ETHNOLOGY. 2019, Volume 6.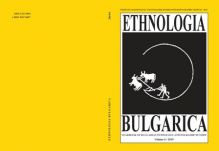 Editor: Albena Georgieva
Language Editors: Albena Georgieva, Shannon Martino